Should Riverside Process Servers Say "You've been served" Or Not?
Is there any true reason to declare "you've been served"?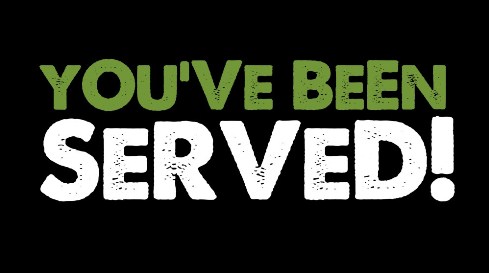 Just what function does specifying "you've been served" hold?
As a process server, declarations that agitate and aggravate like "hello mister you've been served" will certainly irritate servees and perhaps return moments of fury. There is no reason to bother people when the job as a process server is the dignified hand distribution of papers, not verbal attacks. If your purpose is to join into arguments of disparaging remarks for demoralization and retribution, then go for it. However for professional process servers, taking such actions detract from what dignified process service is all about.
Being berated with insults is the day-to-day suffrage of what legal messengers endure throughout the cycle of their day. If you are easy to demoralize and get upset every time someone gives you sharp remarks and puts you down, then a career in the process service industry most likely isn't for you. Taunting people for weak self-serving interests is simply not what polished and professional process servers do.
Do we really believe that people being served are going to be rational when the disappointment of being called into court is upon them?
Of course not!
So exactly how do we successfully complete your job while preventing the indignities of human behavior and myriad of emotions that follow a target being served?
We stay in focus of what the task really is, the legal delivery of your papers and ethical background investigations. Absolutely nothing more.
At JPL Process Service, we serve documents by the law or deliver them as you advise. If asked what they are, we simply state "legal documents". If the subject persists, then our process servers simply remove themselves from the confrontation with a genuine smile and go about their business of completing your task lawfully and professionally.
Our number one mission is to assist you in getting back to your normal life as swiftly and easily as possible. Your documentation gets delivered on time, each time, and filed with the proper courts so you can get back to your day.
Next time you're in need of a registered Riverside process server, give JPL Process Service a telephone call at (866) 754-0520. You'll get friendly help, a solid rate estimation for what you need done and instant service if you require same day delivery.